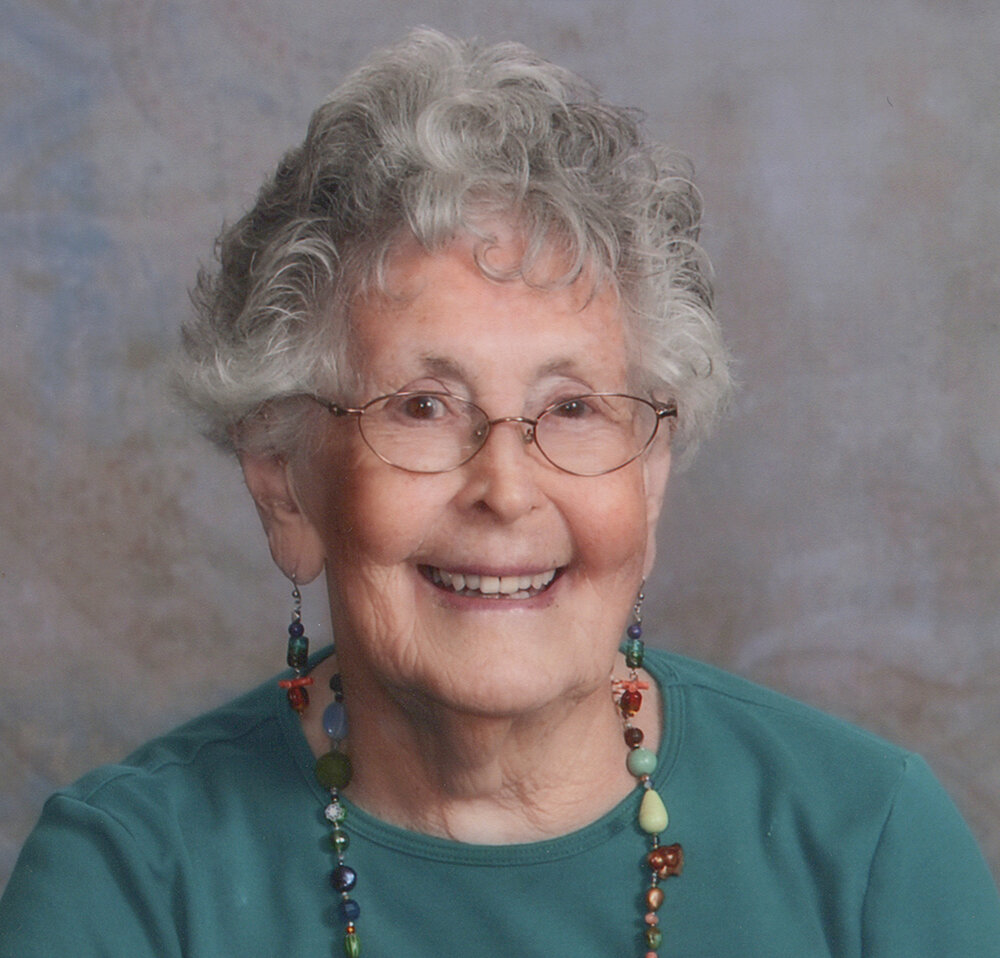 Geraldine Locey Cadzow died peacefully on September 8, 2019, in Portland, Oregon, at the age of 97.   She was survived by a daughter (Linda, Portland, OR) and son (Thomas, Centerville, MA), son-in-law Ronald Scissom, daughter-in-law Susan Cadzow, three grandchildren (Timothy Cooper, Portland, OR, Ellen Cooper, Truckee, CA and Trevin Cadzow, Centerville, MA), five great grandchildren, three nieces and an extended family.
Born December 16, 1921, in Blooming Grove, NY, Gerry grew up in Arden and was educated in Harriman and Monroe, before earning her bachelor's degree at SUNY New Paltz.  A teacher throughout her life, she taught briefly before joining the US Navy WAVES.   Stationed at Newport, RI, she was a gunnery instructor, training sailors on 20mm and 40mm guns.  In elementary classrooms in both Washington and New York states, she especially enjoyed the intermediate grades, with 5th grade being her favorite.  She ran all her classrooms with a firm warmth and genuine concern for her students.
While stationed in Newport she met her future husband, T. Richard Cadzow and they married in 1946, before moving to his birthplace, Wenatchee, WA.  Life tipped forever sideways, though, when she was widowed at 29, with a 4-year-old daughter and six-month-old son.  She never wavered in her determination to raise them well, nor did she ask for special help or, least of all, any pity.   She did what needed to be done, she did it well and she did it gracefully and without complaint.  She remained in Washington for four years, before returning to New York to be closer to her own family. 
Gerry was an astonishing and formidable person, who never saw herself as anyone special.  Those of us lucky enough to know her, knew better.  She seemed to fear nothing and to appreciate much.  She gave freely and asked for little.  She was smart and kind and fearless and resilient.  She was a Christian and a feminist and a force to be reckoned with.
She was smart — and, more than that, a lifelong learner.  She returned to school, as a single mother, working full time, and earned her master's degree.  She learned not just with her mind, but with her heart and soul.  Well into her 80s and 90s, she read, pondered and considered viewpoints that differed from hers.  And, sometimes she would change her mind, as the world around her changed. 
She was kind – but in an eminently practical way.  If you were hungry, she would feed you.  If there was hunger in the community, she would work at the food bank.  if you were alone at a party, she'd approach you, chat and introduce you to others.  If you invited her to your house, her first response was "What can I bring?"   If you were in the hospital, she visited you, but only stayed 10 minutes.  On the way home, she would water your garden.
She was fearless — after moving east, she made sure her children remained close to their father's family on the west coast – by driving across country many summers.  This was back before the interstate highway system, so it was all two-lane blacktop.  Her usual practice was to clock off about 500 miles each day as the sole driver.  She would make coffee in the motel, be on the road by 6:00 am and drive what she called "the best 100 miles of the day" before breakfast.  And then she did it again the next day, for nearly a week.  As the years went by, she increased the complexity of the trips, often by making route deviations that made it more interesting or educational, despite additional mileage.  One year she decided it would be fun to camp, with a tent-like apparatus that made the back of the Rambler station wagon a bed. 
She was resilient — at 87 she moved to Portland, Oregon, and transitioned gracefully from a small town where she knew nearly everyone to a metropolitan area where she knew almost no one.  She learned to navigate the city and its traffic, found a new church, became part of a bridge club and community service groups and attended the symphony.  To no one's surprise, she developed a new group of friends who appreciated her special brand of sociability and good cheer.
She was a Christian – despite the many challenges life threw at her, her faith – in God, in herself and in the goodness of other people – never wavered.  But she was respectful and tolerant as well, regularly (if quietly) horrified by those who imposed their beliefs on others.  For her, beliefs governed actions.  She took her church's teachings seriously and attempted to live each day based upon those values.  And, she voted those values, as well.
She was a feminist — although she never would have used that term.  She knew, at her core, there was nothing she couldn't do.  So she did it –  expecting only fairness in return.  In the 1950s, at a teachers' meeting, the perspective was put forth that male teachers should be paid more than female, since they were supporting a family.  She rose and inquired, quietly but intensely, "Just what the hell do you think I'm doing?"
Most of all Gerry was strong – but it was a strength one could take shelter within, never to fear.  She was generous and fair and, oh so tough.  Her mystery was always how she contained such tenderness and warmth within that strength. 
What a woman.  We will not see her like again.
If you wish to honor her memory, please be as practical as she was, and consider a charitable contribution to Habitat for Humanity, a food pantry/hunger organization or Hospice, in her memory.